Today I had a play date with my friends Lily and Harry. They live across the road from me. Harry's big sister, Jazmin came too.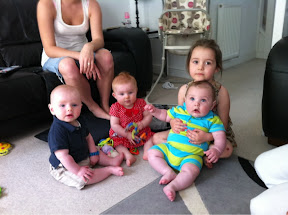 We all had mini milk ice lollies, they were yummy, and I bit chunks off mine instead of just sucking it.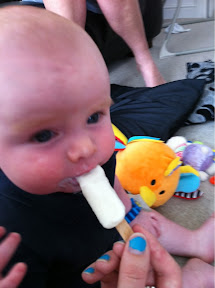 Then me and Mammy went to the town centre. She bought me a new sunhat, one that fits! And some new dodies, because I've lost all my others and gone cold turkey for 3 days.
When we got home from the town we sat on our grass for the first time. I liked it!
Then we walked to Grandma and Grandpa's house. When Dad picked us up he told us he had a surprise waiting at home. It was my highchair off Granda Mark and Sarah :)