Today I went to Barnard Castle with Mammy, Grandma and Grandpa. It's where Grandpa used to live when he was a little boy.
We went to the shops and had lunch in the park.
We went into the park and I went on a swing but I wasn't too keen.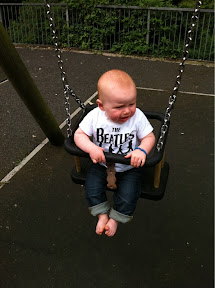 We went to Costa and I shared Mammy's muffin and iced tea, it was really nice!
Tonight we went for our tea at Granda Mark and Sarah's house. I ate some of Daddy's lasagne, it was yummy!
When we got home I got to wear my new bath robe.