I started today with a bit of BabyTV...
Then I went to Grandma and Grandpa's house and Grandma looked after me whilst Mammy and Grandpa went shopping. It was the 4th time Mammy has left me since I was born, I was fine but Mammy doesn't like leaving me because she's soft. I played in the ball pool with Grandma, and Darcey wanted to play too!
When Mammy and Grandpa got back, Grandma picked Anya and Erin up from school. And I got some cuddles of Grandpa.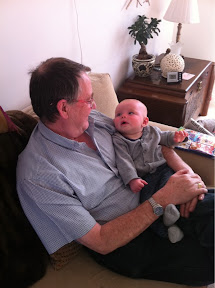 I ended the day with a bounce..