This morning my new top came in the post! It's a Sex Pistols one, they're an old band that Mammy likes.
Mammy had to go into work today, not to work but to apply to do less hours so she can be with me more. She has to go back at the end of May and she isn't happy about it at all!
I went to the supermarket with Mammy, Grandma and Grandpa afterwards. Mammy bought me some carrot puff stick things. I could hold them in my hand and they melted in my mouth!
I also got to try a yoghurt as well and it was tasty!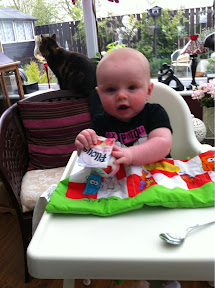 Patch finished the rest of it...
Tonight I discovered my new favourite food, I hardly had any on my bib when I was finished because I liked it that much!
Its made out of tomatoes, sweet potato, onions, red lentils, carrots, red peppers and oregano! It was delicious and Mammy is going to try and make it herself!