Today was Grandpa's birthday. I went to the pub for a meal with Mammy, Daddy, Grandma, Grandpa, Uncle Davy and Auntie Helen. We surprised Grandpa by being there.
I sat in a highchair and I ate a little bit of buttery mashed potato, I loved it!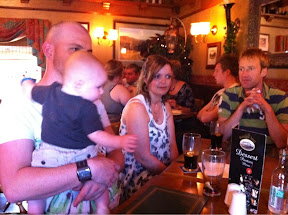 Daddy had some lemon in his drink and I was allowed to taste it so the grown-ups could laugh at my funny face.. But I liked it and sucked it like mad!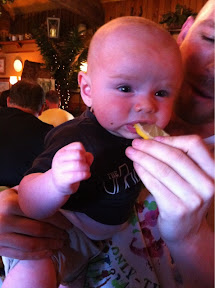 We went back to Grandma and Grandpa's house and sat in the garden in the sun. I laid on the car mat.
Grandma got a ballpool for me to play in in the summer, I got it early because the weather is nice!
It was great fun!
Uncle Ste, Auntie Jill and my cousins Anya and Erin came round too. Anya played with me in the ball pool..
I was so tired by the end of the day, I couldn't keep my eyes open!