Today I firstly went to Ikea with Mammy, Grandma and Grandpa. I had my breakfast there.. I had baked beans and scrambled egg.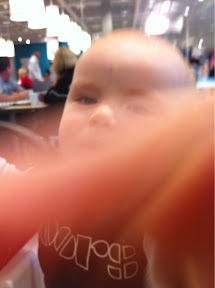 Then Grandma and Grandpa went to the hospital for Grandma's checkups. Me and Mammy went to the Metrocentre and went shopping! I wad excited and did some very loud squeals, Mammy didn't look very happy!
She bought me some new books! I love it when Mammy reads to me. Her new favourite is Captain's Purr.
My new favourite is...
We went back to ikea for our dinner when Grandma was finished at the hospital. Me and Mammy shared meatballs and mashed potato! And I spilled my drink of milk all over the table!
Also today...