Today I spent the day with Mammy, Grandma and Grandpa. We went to Sainsburys and I got some new shoes, PJ bottoms and some new onsies (there was a sale on!)
We went to the new KFC and I ate some fries!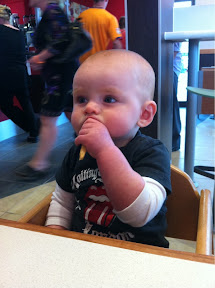 We went back to Grandma and Grandpa's house and I drank some special juice and I really enjoyed it. It was Cow and Gate Summer Fruits.
Grandma found a bag of Mammy's old toys. We found a cat that looks like Nancy.
And a hoodie for Sid..