Yesterday Daddy had a poorly head from a party he'd been to, so I woke him up by slapping his back, singing in his face and sitting on his head.
For my lunch I ate egg mayonnaise on a slice of bread and half an orange, it was nice!
But milk is still my favourite...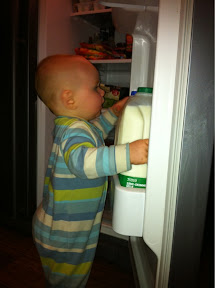 Today me and Mammy walked to town. When I got back I had a nap. For lunch I ate a whole egg mayonnaise sandwich! I didn't leave a crumb. We got an email from our friends in America; Kristen and Cameron, They've posted out our other parcel of American things because the first one got lost in the post..
This is Cameron!
I had a bath and Mammy spiked up my hair (with help from the hairdryer)